CO-vrij certificaat verplicht vanaf 1 april 2023
Eigenaren van een cv-ketel, geiser, gashaard of gaskachel zijn vanaf 1 april 2023 verplicht om een CO-vrij gecertificeerd bedrijf in te schakelen voor installatie, onderhoud en reparatie. Zelf klussen aan een gasverbrandingsinstallatie of een niet gecertificeerd bedrijf inhuren is vanaf 1 april niet meer toegestaan.
Bedrijven in CO-vrij register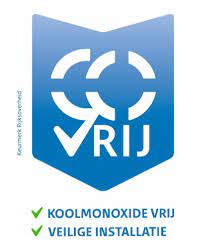 Een gecertificeerd bedrijf is te herkennen aan het CO-vrij logo. Ook zijn gecertificeerde bedrijven terug te vinden in het 'register gaverbrandingsinstallaties' op http://www.co-vrijregister.nl .
Een installateur draagt ook (digitale) legitimatie bij zich waarmee hij kan aantonen dat hij voor een gecertificeerd bedrijf werkt.
Kijk voor meer informatie op http://www.co-wijzer.nl